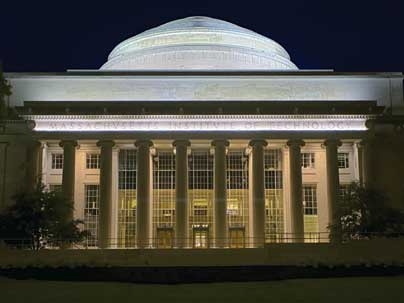 I got this nice email today inviting me to a MIT Dome lighting event this Saturday evening:
Join MIT President Susan Hockfield on Saturday, June 9, when a new lighting system illuminates the iconic Great Dome of Building 10 at 10:30 pm. All local alumni, current students, and parents of current students are invited to attend this special event. For around the same amount of electricity needed to run two hair dryers, a total of 12 new fixtures will light the dome, the Roman numerals that spell out 1916 (the year the building opened), and the limestone facade of Building 10. The new lighting system incorporates energy-saving light-emitting diode (LED) fixtures and is made possible through the generosity of an anonymous donor. The donor also has provided funds to help pay for a 40-Kw solar photovoltaic array to be connected to MIT's electrical grid. This new solar power system will ultimately provide three to four times the electrical energy consumed by the dome lighting. The free event, which comes at the conclusion of a full day of Tech Day activities that will bring 3,300 alumni and alumnae to campus, will feature light refreshments and music at the base of Killian Court. All in the MIT Community are welcome. To register, please go to...
That is brilliant (pun intended), using solar energy and energy-efficient LEDs to light the dome. I'm actually going to be at MIT that day for my 20th reunion (yes I'm that old), but in actuality I am only sending Adam to the Kid Tech activities and spending the day with Doug and Dova at museums in Boston. I couldn't get adequate babysitting coverage to attend the reunion in person so Adam will be the only one attending my reunion (brainwash early, brainwash often). He will be having a great time with Lego's and towers, two of his favorite pasttimes. Here are his program descriptions for the day:
L'eggo My Lego's

Forget that Ferrari and jump into the driver's seat of Lego Cars. Younger children build contraptions that propel their cars the furthest while older children design real motor-powered vehicles, as each group races for the gold.

Physically Possible?

Bridge the gap to the physically impossible with a bridge design and competition for all ages. Younger children also reach for the sky as they see who can build the tallest straw tower, while older children hone their design skills to create their very own Rube Goldberg machine.
Very cool! At least someone will be enjoying my reunion. Unfortunately, the kids will never make it to the dome lighting ceremony, but it should be a fun-packed day.