I was inspired by a couple versions of this American Flag wreath, but didn't quite like every aspect of each one, so I made my own pattern combining the best of all worlds.
Kara's crochet wreath at
Petals to Picot
is beautiful! But I prefer knitting to crochet myself. Also, to be authentic, there should be exactly
13 stripes
for the 13 original states, 7 red and 6 white (nevermind that a wreath is not flag-shaped at all!).
Kristen has a knit version of the American Flag wreath at
Studio Knit
. However, the straight stockinette stitch isn't too exciting and the felt stars aren't knit. And 14 stripes - nope!
Both of these wreaths are 12" and I also wanted a 16" wreath to put on a door. To keep the cost down, I went with the old reliable Red Heart Super Saver yarn in
Soft Navy
,
Cherry Red
and
White
. For variety, I chose the rice stitch, super simple with an interesting texture. I loved the crochet stars, so I dusted off my crochet skills to utilize Kara's pattern.
Here are the supplies:
Red Heart Super Saver Jumbo Yarn Soft Navy
Red Heart Super Saver Jumbo Yarn Cherry Red
Red Heart Super Saver Jumbo Yarn White
Floralcraft Extruded Styrofoam Wreath 16"
Here's the pattern, using size 8 (5mm) knitting needles:
Starting with the red yarn, cast on 25 stitches. Use the following rice pattern throughout:
Row 1: Purl 1, *knit 1 through the back loop (tbl), purl 1. Repeat from * across.
Row 2: Knit across
For the striping, alternate 12 rows of red with 12 rows white for 13 stripes, ending with red. The striped portion should cover about 2/3 of the wreath circle. Finish with 70 rows of blue. Fit over the foam core to check the length and then join the blue to the red using a
three needle bind off
on the back side.
For the stars, use the white yarn, an I-9 (5.5mm) crochet hook and work in the round:
Create a magic ring with one chain stitch.
Work *1 sc into ring, 1 dc into ring, ch 2, 1 sc in 2nd ch from hook, 1 dc into ring.
Repeat from * 4 more times.
End with 1 sc into ring and join.
Attached the stars to the blue portion using the yarn ends from the stars before putting it on the foam core. Space the stars tightly as they will "spread" after installing of the foam core. I couldn't get 13 stars to fit, so here it is with 10. Attach the flag to the wreath using a
mattress stitch
on the back side (it should reach all the way around).
It looks great on our door!
However, this is one of those projects where the journey was far more interesting that the destination. While I was in the midst of making the stars, we often put the round flag portion around our necks as it made a perfect cowl or infinity scarf. So up next is an American Flag scarf, especially with all that leftover yarn! This scarf is being knit in a 1x1 rib as the rice stitch curls a bit.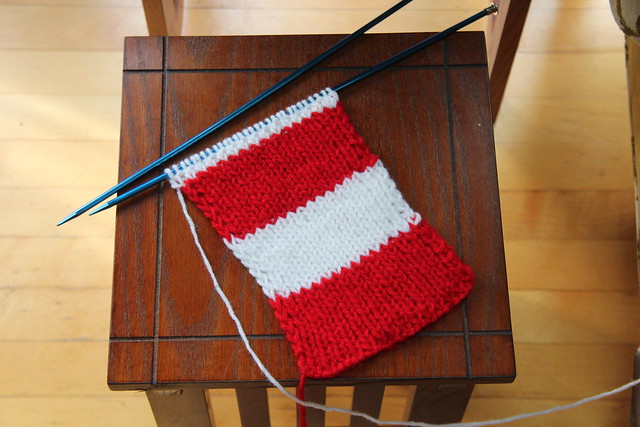 It's a lot easier to explain to people when they ask that I'm knitting an American Flag scarf as opposed to an American Flag wreath. Or if I get tired, a Where's Waldo scarf!