When I asked the kids to honor me with a bike ride a while ago, it was met with a lot of rolled eyes and complaints of a boring time to come. Sure biking can be boring if you always take the same roads, but this time it would be more of an adventure. Instead of heading out of our dead end street into the neighborhood, we headed towards the dead end and into the woods.
After clearing the heavily wooded portion of the trail at the end of our street, we happened upon an abandoned house.
With an abandoned garage and abandoned mailbox.
Spooky! We looked around a bit and saw lots of old rusted machine tools in the yard complete with a garden snake standing guard. This house is actually on a street with the same name as ours, they are two dead end roads that connect only with a dirt path.
Riding down the dirt road some more, we saw nothing but canopied trees.
Further down, we saw a sign for an open house on a house for sale. The open house time had passed, but the garage door was wide open and the garage was empty. We knocked on the door to the house and no one answered. So we wandered inside.
The door opened into a wonderful open space with a loft and vaulted ceilings.
It had a hot tub and a foos ball table.
Dova immediately wanted to buy the house because clearly a home is not complete without a hot tub!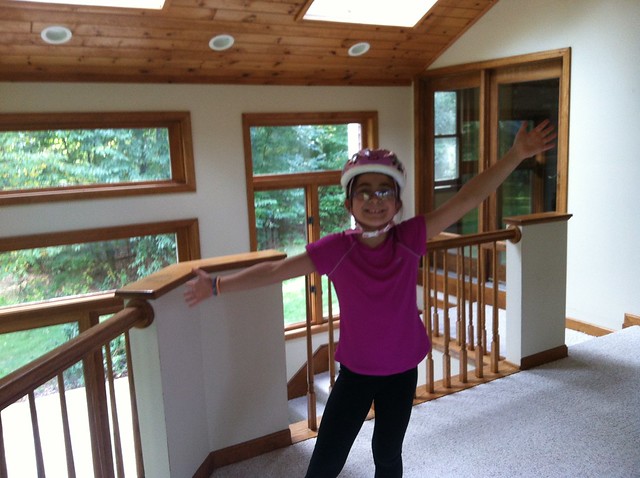 Did I mention hot tub?
They said it was the best bike ride ever, exploring from an abandoned house to a pristine house for sale. All without leaving our street!
Angela's note: Dusted off this old draft, we actually took this bike ride in the fall of 2013!